Using the plugin
Once the plugin is configured, using it is pretty intuitive. When you create a new record or edit an existing one, just start typing an address and the autocomplete suggestions will kick in once you have more than just numbers typed in. If you select one of them, it will populate all of the fields for you.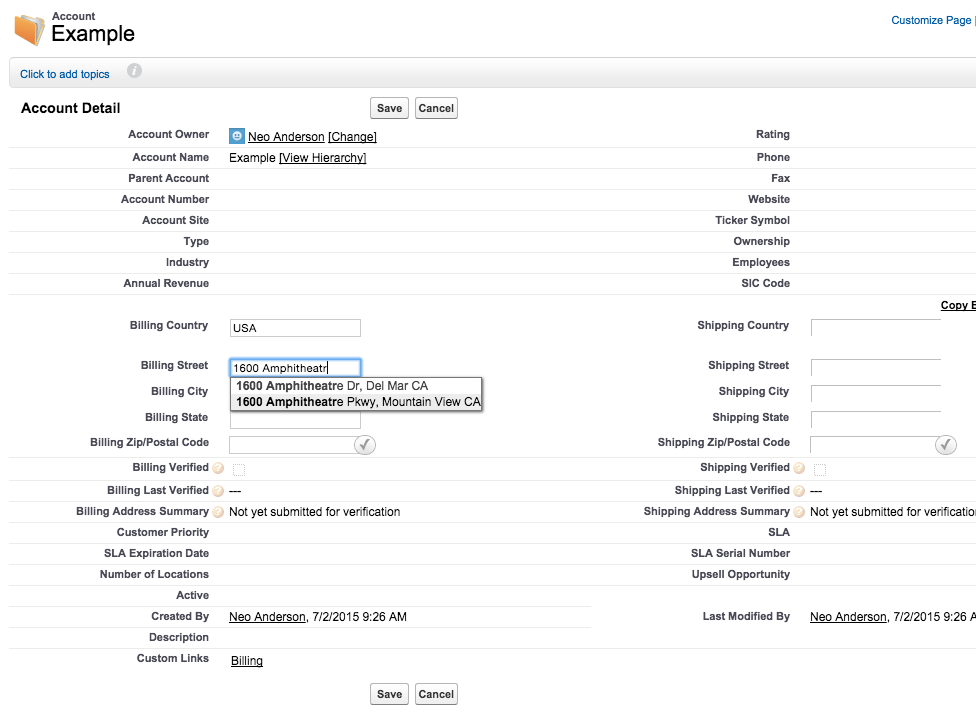 If you are creating a new record, the plugin will automatically submit the address for verification. If you are editing an existing record, just click the gray checkmark to verify the address. If the address passes, the checkmark will turn green.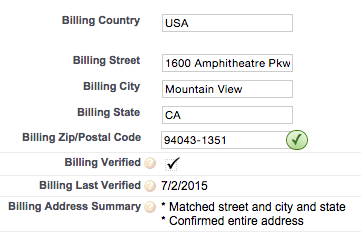 Batch Verification
Have a whole pile of records that need their addresses verified? We have a button for that. Just open the SmartyStreets app from the app launcher, and click the Batch Verify tab. The Batch Verify page has three modes.
Modes
Unsubmitted (default): In this mode, you can click the Submit These button to verify all addresses that have not yet been submitted to SmartyStreets for verification.
Valid: This mode lets you re-submit your addresses that have been previously submitted to SmartyStreets and confirmed to be valid. It includes only valid addresses that were last verified a number of months ago (you can choose that number on the Configure SmartyStreets page). It's good to re-submit every once in a while to make sure the addresses are still good.
Invalid: This lets you inspect your addresses that have been submitted and found to be invalid.
Once you submit a group of addresses, you can freely navigate away from the page if you like. Our plugin will diligently chug away in the background until it's finished, or until you click the Abort Verification button. If you abort while it is processing previously unsubmitted addresses, you won't lose your progress. Clicking Submit These again will pick up where it left off. If you abort while it is processing previously valid addresses, you will lose your progress, and clicking Re-submit These again will start from the beginning.