Guidelines
Anyone using Smarty's brand resources should only use the assets found on our Brand Resources site and follow these guidelines.
Balance
Avoid representing the Smarty brand in a way that:
Implies partnership, sponsorship, or endorsement. Brand assets are for promotional and media use.
Makes the Smarty brand overly prominent and the most distinctive feature.
Puts the brand in a negative context as part of an article or a report.
Consistency
Keep the word Smarty consistent.
Capitalize the "S" in Smarty and display it in the same font size and style as the content surrounding it.
If you offer an app, website, or a product or service that uses the Smarty APIs, you may only use Smarty to say that your app was "made using Smarty APIs".
Do not modify, abbreviate or translate the word Smarty to a different language or by using non-English characters.
Do not combine "Smarty" with your own brand.
Do not combine any part of the Smarty brand with a company name, other trademarks, or generic terms.
Assets
You may use these assets without written attribution on your website.
Download all
or find a specific one below.
When to Use the Logo and Glyph Icon

Only use the logo and glyph files available here. Our downloadable logos include our dark, light, mono black, mono white, and gradient versions. Also, we have downloadable glyphs including our main blue, dark blue, gradient, black, and white glyphs. Each downloadable zip file contains a PNG, JPG, EPS, and SVG image of the logo or glyph (except for the mysterious and exceptionally rare white logo on a white background JPG -- they're difficult to see, so we decided to not include them in the downloadable zip files. You're welcome!) You may change the logo and glyph to any solid color, as long as all other aspects of its design stay the same. We recommend showing the logo and glyph in its original colors.
Sizes, Shapes, and Space
The maximum size for PNG and JPG files will look best at its default size or smaller. Do not increase the dimensions or crop the images so as to keep their appearance sharp on high-DPI screens. SVG and EPS will be fine to scale up or down. A minimum size ensures that the impact and legibility of the logo or glyph is not compromised in application. Never show the logo or glyph smaller than a height of 30 pixels.
Always keep original aspect ratio. Do not skew, rotate, or reshape the logo or glyph.
Minimum clear space ensures legibility and visual impact by isolating the logo or glyph from competing visual elements. Determine the minimum clear space around the logo or glyph by measuring one half of the glyph's size on all sides.
Examples

Minimum size should be no smaller than 30 pixels in height.
Clear space should be one half of glyph's size on all sides.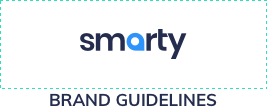 The copy is just outside the minimum clear space.

The logo is well outside the minimum clear space.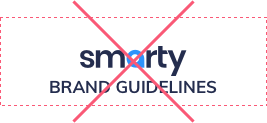 This copy line is too close to the logo.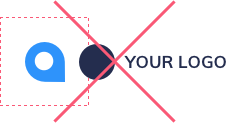 This logo is too close to the glyph.

This logo has been reshaped.

This glyph has been rotated.