Improving Address Data
Addresses require some maintenance, especially if you use those addresses in your business or organization. You need accurate and up-to-date address data. The solution is an address data management service that verifies the accuracy of addresses and standardizes them to USPS standards.
Incomplete Address Data
Missing ZIP Codes, ZIP+4 Codes, company names, apartment or suite numbers, and other segments of an address are common problems. Whether the missing information results in a lost opportunity to follow up on a sale with a customer or the inability to deliver an order, a company's ability to communicate with its customers is impaired by incomplete address data. Smarty (formerly SmartyStreets) can fill in or flag missing data to give you a complete, verified address.
Example
Suppose you enter an address lookup of an apartment complex, but forget the apartment number and ZIP Code. Smarty will flag the missing data and validate the rest of the address.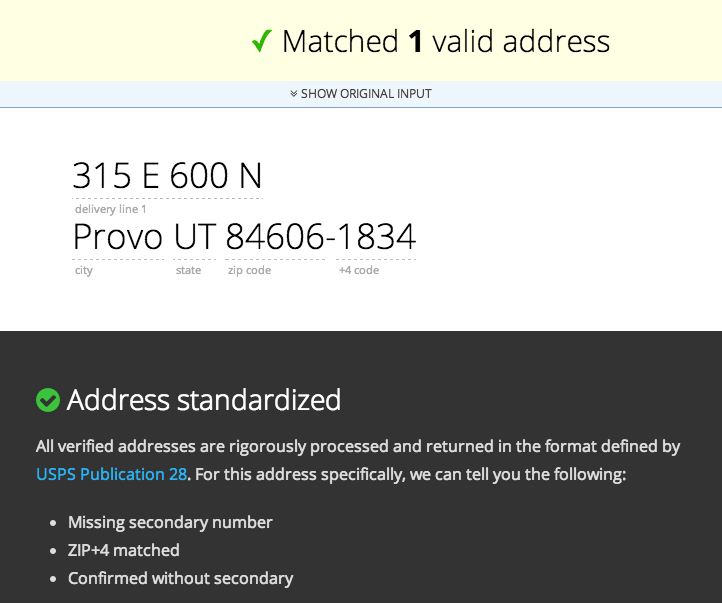 Incorrect Address Data
Address data is highly susceptible to mistakes. The street name could be misspelled. An unacceptable city name could be entered. The wrong ZIP Code might be provided. Whatever the case, incorrect information in an address database will result in a higher percentage of undeliverable mail and missed opportunities.
Smarty helps clean up your data by correcting misspellings, appending ZIP Codes, updating changes to street or city names, and standardizing the complete address, including the city, state, and ZIP Code.
Example
If the address input has spelling mistakes or the wrong ZIP Code, Smarty will automatically fix those errors to give you a clean, accurate, and validated address.
| Input | Output |
| --- | --- |
| 3785 s las vegas av., los vegos nevada 90210 | 3785 Las Vegas Blvd S, Las Vegas NV 89109-4333 |