Benefits of Effective Address Correction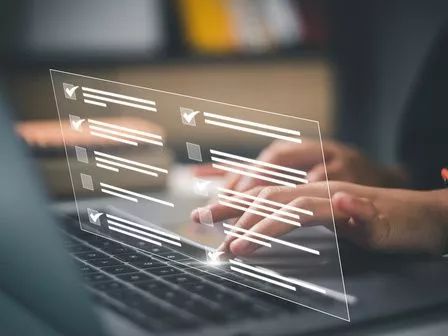 Address Correction is the process of reviewing postal addresses for accuracy and completeness and then fixing typos, casing, and abbreviations to match the standards of the local postal authority. Reliable address correction software can detect vacant, invalid, and undeliverable addresses by referencing authoritative address datasets.
Smarty's address correction software works for both individual addresses and bulk address verification. You can also directly integrate address correction into your systems with our address validation APIs.
Additionally, Smarty's address validation APIs allow businesses to integrate address correction directly into their systems, streamlining the address correction process and improving the accuracy of their mailing lists.
With reliable address correction, businesses can optimize their direct mail campaigns and achieve better ROI.
| Single Address Correction | Bulk Address Correction | US Address Correction API | International Address Correction API |
| --- | --- | --- | --- |
| | | | |
This article will cover:
How to Perform Address Correction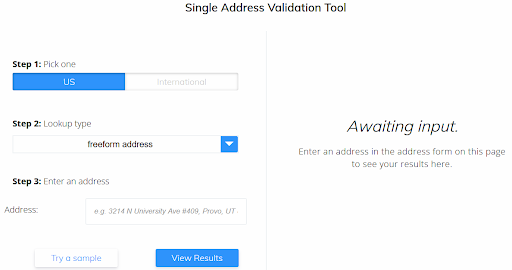 For individual address correction (also called address validation or verification), Smarty has a free CASS-certified mailing address correction software that can verify an address's accuracy in the United States. This tool can also verify international addresses.
Go to Smarty's free Single Address Validation Tool.
Select if the postal address you want to verify is US or international.

Choose what information you'll use to verify the address.

Address Components: Search for a postal address using address elements like street, city, state, and ZIP Code. Smarty's Address US Autocomplete software will suggest accurate addresses based on your provided information.

Freeform Address: Type in the address using a freeform field. This method will also use Smarty's Address Autocomplete software for US addresses.

City/State or ZIP Code: Searching with this information will show you all possible 5-digit ZIP Codes associated with a city or all cities within the provided ZIP Code. City/State or ZIP Code lookup is available for US addresses only.

Select View Results to verify the address. If an address match is found, the address validation tool will confirm that the address is valid, indicate any corrected address elements, and provide helpful information like the ZIP+4 Code. In the depicted example, the address correction software corrected the street address by adding "S" after the street number.
What Does Address Correction Mean?
Address correction and address verification refer to the same action: checking address accuracy by comparing the address to an authoritative address database. Address validation software can perform address correction even if you don't enter a standardized address; they automatically format addresses by correcting errors and transforming them into a standard format recognized by the local postal authority.
However, some mailing address errors can't be corrected automatically. When mailing addresses have major errors, such as a missing primary building/house number, address verification/correction software will tell you if you have the wrong address.
When this happens, you'll have to contact whoever provided you with the address to get the accurate address.
Why Address Correction is Essential
Some key benefits of address correction include:
Save Money and Time: It takes a lot of time for employees to prepare mail, and it costs money for packaging and other material costs. Using accurate addresses means you only need to pay these costs once rather than spending money to redo work for undeliverable addresses.
Better Customer Service: Bad addresses cause major headaches for everyone involved, from you to your customers to the mail couriers. Having accurate addresses ensures you will reach your customers on time.
Accurate Recordkeeping: Companies rely on data for tasks like allocating funds, reaching customers, and maintaining institutional knowledge. Address correction can protect data integrity by informing you of wrong addresses and removing duplicates.
Why Would an Address be Invalid?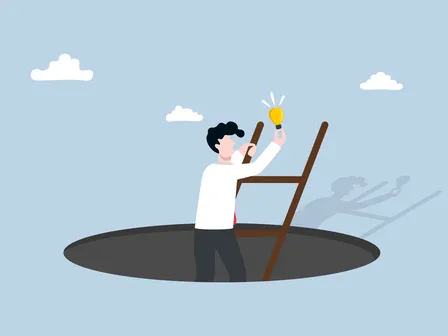 If a human can make an error, you can guarantee that someone will make it eventually. Most of the time, these errors are accidental; however, sometimes, people intentionally provide you with fake addresses. Like Gollum leading Sam and Frodo off the path and getting them lost in the Emun Muil, there are many who will provide bad info to get their hands on your jewelry. These are just some of the ways an address could be invalid.
Fake Addresses: To reduce postal mail spam or commit mail fraud, sometimes people intentionally give company representatives incorrect or misleading addresses.

Typos and Misspellings: Addresses can be long, and they could include a street name with an unusual spelling or long strings of numbers. Perhaps the person entering the postal address in a customer address database was in a hurry and accidentally typed the street address wrong, or they forgot to add an apartment number. Either way, typos, and misspellings are common human errors.

Data Errors: Sometimes, data sources provide wrong addresses. People mishear addresses in phone calls because of background noise. Mistakes are made when performing mundane copy-paste tasks.

Incomplete Addresses: It's not uncommon for someone to forget to add their business suite number to their address. They may also not know the correct ZIP Code and simply pick one that belongs to the same city.

Data Degradation Over Time: As time passes, streets are renamed, cities are annexed, and ZIP Codes change. When things get sent to old addresses, the probability of successful delivery drops.
What Happens if an Address is Wrong?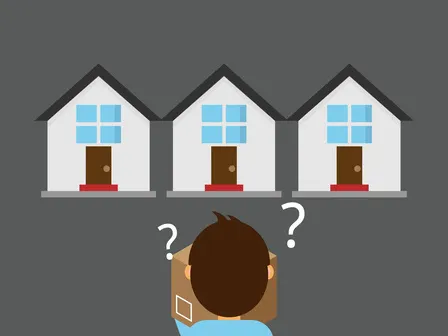 According to Stamps.com, there were over 23 million packages sent to the USPS with wrong addresses in 2018. And according to a whitepaper written by GIACT (2021), "The cost of returned mail continues to be a tremendous burden, costing the mailing industry an estimated $20 billion."
This cost doesn't account for the money lost on the packaging, paying employees, and other similar business expenses. So it's safe to say that a lot is at stake when addresses aren't accurate. Here are some of the risks around using wrong addresses:
Interrupt Cash Flow: If you use the mail to deliver important documents like invoices or checks, wrong addresses will interrupt your business' cash flow and cause an administrative nightmare for your HR or financing departments to sort out.
Potential Fraud: Wrong addresses could result in your mail getting delivered to the wrong person. This increases the risk of fraud for you and your customers, especially if the mail includes personal information. People could also use an alias or fake addresses to receive additional samples, free trials, or promotional emails. The recipient could then resell the product or receive your services for free.
For example, sometimes streets and cities have multiple, valid names. Or, perhaps, a street that was once a number could be renamed in honor of a person or sports team. Or, a city may annex a portion of a neighboring city. Each alias can be used to receive one-time offers, even though they're going to the same place.
The ZIP Code 84121 matches with 13 city names in the USPS database, meaning that every address in that ZIP Code has 13 different valid, deliverable addresses. When a street in that ZIP Code changes names, it creates a new version of the address with the new street name while maintaining the validity of the old street name. So, the 13 city names multiply by the 2 street names creating 26 valid alias addresses. And it happens all the time.
Ready for it to get messier? USPS also doesn't keep track of the possible recipients at an address. So, you have 26 addresses that can be tied to 26 fake names, and USPS will treat each one as a valid delivery point. Every address in this image is valid and goes to the same place as all the rest.
If you aren't correcting/validating your addresses, someone might be getting 30-day free streaming trials for a solid 3 years at this very moment.
Shipping and Fees: If an address used for shipping a package isn't valid, shippers like FedEx, UPS, and the USPS may charge you a fee to reroute the package to the correct address. Or, if your mail was sent to an undeliverable address, the USPS may return your parcel to you and charge you up to $25 per package for the return shipping fee.
Legal Compliance: Businesses are required by law to keep up-to-date information on their customers. Repeatedly undeliverable mail is considered suspicious and may trigger an investigation into your customer and your business's compliance with the laws.
Lost Marketing Opportunities: Incorrect shipping addresses can prevent your direct mail from reaching prospective customers. This could waste all the effort spent discovering customers and cost you new business.
Labor: It takes time for employees to organize mailing lists, package materials, and ship them. Mail sent to the wrong address means wasting that time and labor.
Material and Packaging: Of course, if your mail never reaches its destination, you would lose any costs expended for any packaging and the items you shipped.
Reputation: Bad addresses cause frustration for both you and your mail recipient. Mistakes like this can damage your relationships with your customers, and your company could gain a reputation for being difficult to work with.
How Do I Know if the Post Office Has My Correct Address?
You can't check if the post office has your correct address because the USPS doesn't keep a database of addresses associated with specific businesses or people. An address correction service simply parses, standardizes, and attempts to find a match within the current address datasets to find a match and then returns as much metadata as possible based on whatever it finds.
What if the USPS Does Not Recognize My Address?
The USPS does keep a database of valid addresses called the United States Address Management System (AMS). A valid address might not be in the AMS on rare occasions, such as newly developed buildings. This can prevent you from buying shipping labels for that address. Go to the USPS Postal Pro website to add an address to the AMS. Use the site to locate a nearby Address Management System Office and contact them to add the address.
How do I Change My Address with the USPS?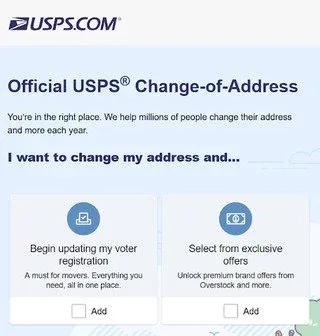 Rather than changing your address in a nonexistent database, you can provide the USPS with a new address for forwarding your mail through the National Change of Address (NCOA) website. Essentially, you're asking the USPS to send any mail addressed to you at your former address to the new forwarding address. You can add a forwarding address with the USPS either online or in person.
To change your address online:
Go to the official USPS change-of-address website.

Complete all of the questions on the online form.

Provide your payment information. Changing your address will cost $1.10.

Finalize your address change. You will receive a confirmation code in your email.
To change your address in person:
Go to a local post office.

Speak with an attendant and fill out a PS Form 3575.
When Should I Change My Address When Moving?
It can take up to 2 weeks for your address to be updated, though your mail could start showing up at your new address after 3 business days. Keep in mind this only forwards your mail to the new address; it doesn't change your address in any company databases. Be sure to update your address with those companies, as the USPS will stop forwarding your mail 12 months after the address change (or up to 18 months if you purchase a forwarding extension).
Conclusion
By implementing address correction (or validation) processes, you can save money on shipping, reduce the risk of fraud for you and your customers, maintain a consistent cash flow, and provide better customer service.
You can use our address correction software to catch address mistakes like typos, missing ZIP Codes, and postal address changes that occur over time. To easily standardize one address or many, try Smarty's Single Address Validation tool for free, then sign up for a free trial.